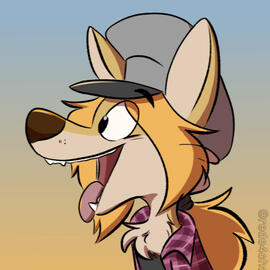 Redwulf
---
Illustrator | Adventurer | Nerd
Commissions
Commissions CLOSED
The Nitty Gritty
🐾 I will need a current reference sheet of your character in order to work with you. The only exception to this rule is if you are wanting a reference sheet commission from me.
🐾 If I make a mistake on your character that was clearly listed on your reference sheet, I will make corrections. However, I cannot be held responsible for reference sheets/character descriptions that are inaccurate and/or outdated.
🐾 Completing a request form does not guarantee acceptance of your commission request. Once I have reviewed your commission request and have approved it, I will send you an invoice email via PayPal.
🐾 Characters that are deemed by me to have high complexity/are super detailed may have an additional fee added for the extra work involved. If I feel that your request is beyond my scope of artistic ability, I will notify you that I cannot take your commission request. Please don't feel offended: I just want to be able to fulfill my commitment to deliver a commission that my clients are going to be satisfied with.
🐾 Payment is expected within 48 hours of sending out the invoice email. I cannot work on your commission until I receive payment. Please check your spam folder just in case my invoice email ends up there.
🐾 Failure to send payment within 48 hours may result in being dropped off of the queue list. This doesn't mean I won't work with you in the future. Life happens, I understand. You're welcome to re-submit a commission request when I open again.
🐾 I may post your commission on my various social media/art accounts as means of self promotion. Please reach out to me if you do not want your commission posted.
🐾 You are allowed to use/display your commission provided that it is not altered or used for commercial use or profit. If you wish to use it for profit, please reach out to me to see if we can make a deal. You cannot use your commission as an NFT or for any purposes involving NFTs.
🐾 I reserve the right to cancel and refund your commission for any reason at my discretion, at any time.
All of my work is PG-13 or under
---
Prices and Commission Types
ILLUSTRATIONS
Price starts at $35 for one character
Additional Characters are list price minus 10% discount
Backgrounds start at $40 extra
Request an Illustration Commission HERE
---
ICONS
$35 for one character
500 x 500 px icon with light shading
Contact
Find me at any of these great places found on the Interwebs!